🎾 For more information on all coaching & stringing services please contact matt@gameplansports.co.uk 🎾
GamePlan Sports is the coaching provider for Chesham Bois Tennis & Squash Club. Matt Reid, our Director of Tennis, founded GamePlan Sports. Chesham Bois LTSC represents one of the leading traditional clubs in the South of Buckinghamshire with 11 all-weather courts over three surfaces, two mini zone courts, and a large clubhouse with bar and squash courts. GamePlan Sports culture provides the highest standard of coaching and enjoyment to all players and offers them the opportunity to take their tennis to the next level.
At GamePlan Sports, we specialise in developing players and their programmes to allow them to reach their goals. We run sessions for all ages and abilities, and our weekly programme can be found here! You can also view the junior and adult Player Pathway here. To keep up to date with everything in the coaching programme, then make sure you sign up for the coaching newsletter & blog posts.
Whether you are a beginner and want to play socially, have ambitions to play team tennis, or are a junior player who may be starting to play tennis and wants to be the next budding tennis star, we are here to guide you through your journey. GamePlan Sports also run a school programme as a starting point for budding young tennis players in the local primary and junior schools. This programme is fundamental to the continued growth of our sport and our linked tennis club Chesham Bois LTSC.
To keep up with what's going on and follow the programme then, make sure you follow our social media channels! You can also subscribe to the coaching newsletter by clicking on the GPS logo!
To see an overview of the weekly programme, click here! To see further details and book sessions, please head to GamePlan Sports coaching.
🎾 For more information on all coaching & stringing services please contact matt@gameplansports.co.uk 🎾
Meet the Coaching Team 🎾 All Coaches are LTA Qualified  & registered coaches, with valid DBS & First Aid 🎾
Matt Reid – Director of Tennis
Matt Reid is our Director of Tennis and has been coaching at Chesham Bois since 2011. Matt joined as a junior coach doing his LTA Level 3 qualification after coaching in Edinburgh & then moved to Kos Greece, as Head Coach.  Matt has been coaching professionally since 2005, he has developed his coaching knowledge, and in September 2021, Matt gained the LTA Level 5 Master Club Coach award –  the highest coaching accolade in British Tennis, becoming one of over a hundred coaches to gain the qualification.
Since joining Matt has coached players of all ages and abilities, from tots players at 3 -4 years old to our adult first-team players. Throughout his time at Chesham Bois Matt has always been an energetic, enthusiastic and hard-working coach, who aspires to see his students develop and most importantly enjoy the game of tennis. Matt has been involved in Buckinghamshire County Tennis as a Captain of the 8 & Under team, as well as the boys 9 & Under and 10 & Under Teams for a number of years and only stepped back in 2019 to concentrate on aiding the development of several National level junior players here at Chesham Bois LTSC. Matt was awarded the Cosier Award by Bucks LTA for taking his 10 & under boys team to the highest finish of all the Bucks County Teams in 2018/19. To book a lesson with me, head to the GPS website to book a lesson.
You can contact Matt at matt@gameplansports.co.uk
Matt Clark
Hi, my name is Matt. I have recently joined the Chesham Bois coaching team as a qualified LTA Level 3 coach. As some of you may know, I grew up playing at this club, so it is fantastic to be back and be in a position to give back to the club and help the members with their tennis. I have a lot of experience coaching players of all ages and standards. I have helped produce several County and Regional standard players, as well as coaching tots up to beginner and team adult players.

 As well as also have 2 years of experience assisting Matt Reid with the Buckinghamshire boy's u9 and u10 County squads. I now have 6 months of experience coaching abroad in Greece and Turkey. I still play as much as I can and will be representing the club in the 1st teams. I look forward to coaching as much as possible and helping everyone develop their game and improve their tennis! To book a lesson with me, head to the GPS website to book a lesson.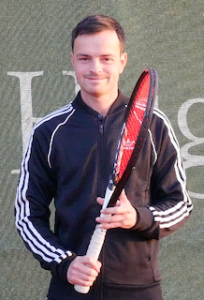 Adam Chambers
Adam Chambers is an LTA Level 3 Club Coach and joined us at Chesham Bois in April 2021. Adam is a full-time coach at the club, bringing with him over 10 years of coaching experience.
Adam has always had a love for sport and started his tennis career at the age of 18 at Beaconsfield Tennis Club. During his time at the club, he progressed from a coaching assistant to a coach and enjoyed developing many students over the years.
Adam loves teaching all ages and abilities, and since joining Chesham Bois he has become popular with the members. He believes the best thing about his job is being able to help others fall in love with the sport & develop as players.
He is looking to develop his career even more at Chesham Bois with Matt Reid's support, and in the next few years will study for his LTA Level 4 qualification. To book a lesson with me, head to the GPS website to book a lesson. To book a lesson with me, head to the GPS website to book a lesson.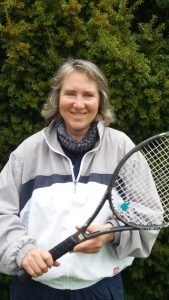 Kate Turton
Level 5 Coach
Kate is a Level 5 tennis coach with over 30 years of coaching experience. She grew up in Somerset and loved the game from the moment she picked up a racket aged 8.
She attended Millfield School and represented Great Britain as a junior.
She moved to Buckinghamshire and represented Bucks County for many years.
She has worked at many clubs and spent 20+ years as the Head Pro at Wycombe Abbey School.
She enjoys teaching all ages and all standards and is an ongoing student of the game.